First-of-its kind diagnostic tool
Aiforia today announced the CE-IVD Mark for the Aiforia® Clinical AI Model for Breast Cancer; Ki67, a widely used key biomarker in breast cancer diagnostics across pathology labs around the world. The AI Model is able to calculate Ki67 positive and negative cells in invasive areas of human breast tissue in whole slide images (WSI) as well as in specific areas — making it a first-of-its kind diagnostic tool for pathologists to harness the full potential of their own expertise and make decisions with confidence.
"The Ki67 AI Model is intended to support the pathologist by ensuring confidence in their decision making and enhancing precision diagnostics when evaluating this key biomarker in breast cancer," explains Dr. Juuso Juhila, Director of Clinical Products at Aiforia "The AI model enables the pathologist to focus on the most significant areas, the invasive ones. Thus increasing the speed and accuracy in the analysis of these key breast cancer biomarkers. This is crucial to the diagnostic process for pathologists and patients alike."
The challenge: rising rates of disease and analog tools
Rising rates of cancer create a colossal burden on pathologists, an already underrepresented group of healthcare professionals. In the US the proportion of physicians specializing in pathology has nearly halved in the last ten years, while their workload has increased by 47%. Meanwhile tools at their disposal are manual and error-prone. Both pathologists and patients deserve reliable and efficient tools for clinical use.
The solution: AI-assisted data and decision support
The Aiforia Clinical Suites are under development to support the diagnosis of some of the world's most prevalent cancers such as breast, lung, prostate, and more. They are intended for release and regulatory filings in the coming year. The CE-IVD marked Aiforia Clinical AI Model for Breast Cancer: Ki67 is one of the first of many AI models to be released for diagnostic support as part of the upcoming release of the full Aiforia Breast Cancer Suite.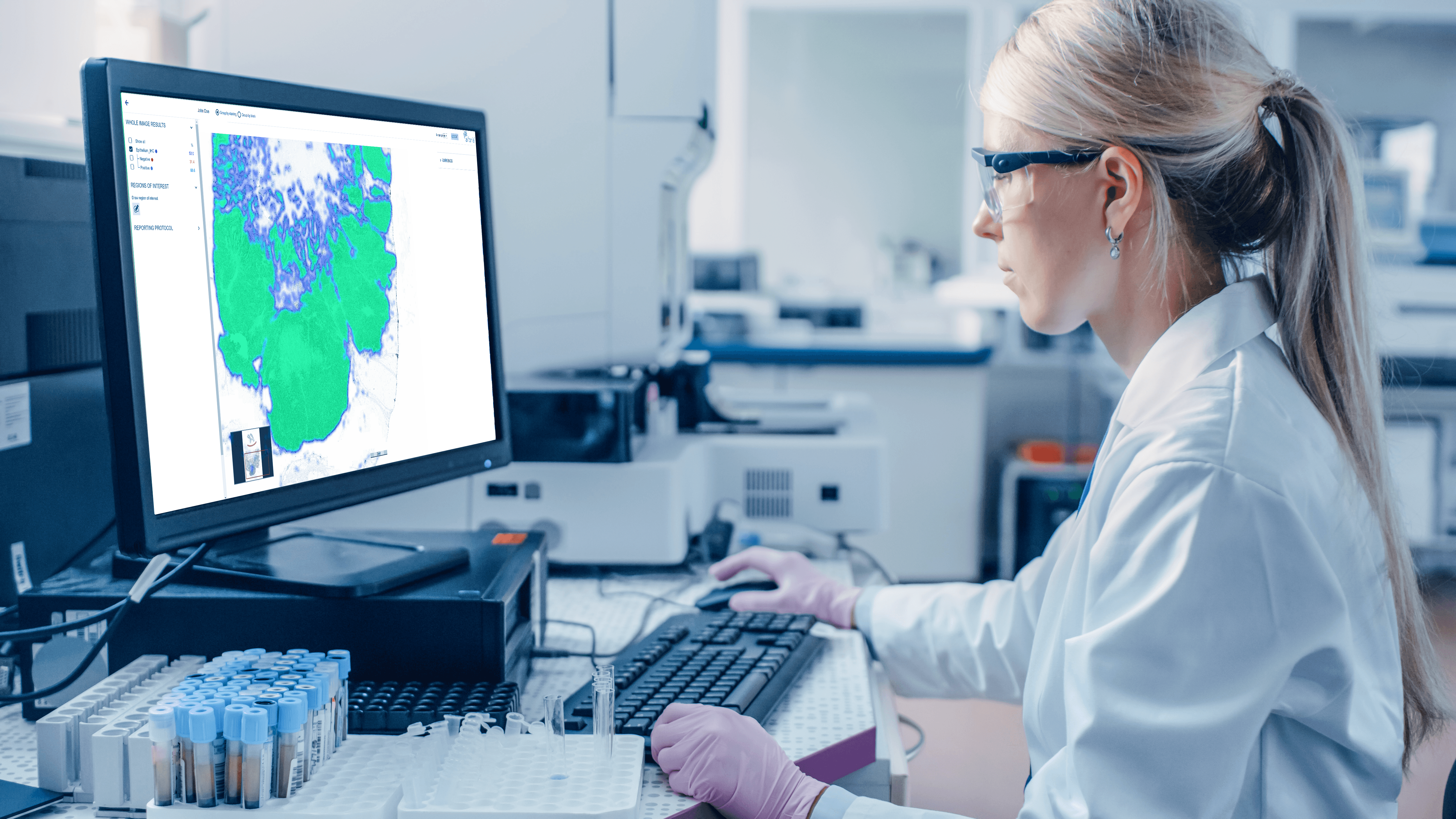 CE-IVD marked Aiforia® Clinical AI Model for Breast Cancer: Ki67
The Aiforia Science Team, fuelled by their pathology and medical expertise, is well underway in developing Clinical AI Models for diagnostic support in breast cancer. Including AI models for: PR/ER, the more technically demanding HER2 marker and mitosis count. The intention then is to CE-IVD mark/register these along with the whole Breast Cancer Suite.

The Clinical Suites will provide pathologists with a portfolio of tools to increase the efficiency and accuracy of sample review: the AI models for diagnostic support as well as for use in pre- and post-analysis screening, a case-centric browser-based viewer and a platform for QC and flexible adaptation.
"Our aim is to empower pathologists with the means to make decisions with confidence, while the full responsibility for the clinical report relies within the pathologist's remit," explains Dr. Juuso Juhila, Director of Clinical Products at Aiforia "The AI-assisted tools for clinical diagnostics are a means to empower the pathologist in harnessing their own expertise by automating manual tasks, providing results with higher speed and consistency and to ultimately helping to improve patient outcomes."
Clinical AI Model for Breast Cancer: Ki67
The Aiforia Clinical AI Model for Breast Cancer: Ki67 for diagnostic support, was created to address current challenges in cancer diagnostics. Breast cancer biomarker scoring methods are prone to variability. For example, commonly used scoring schemes necessitate pathologists to extract quantitative parameters that are subjected to inter- and intraobserver variability. This unfortunately means that analysis is more qualitative.
The Ki67 AI Model is easily accessed via Aiforia's browser-based viewer
The need for objective and standardized tools is evident. Deep learning artificial intelligence was born to perform these types of repetitive, quantification tasks — unaffected by bias and variability. Analyses with AI can be replicated consistently, no matter the sample type, size or any other human condition impairing its performance. AI models such as this Ki67 one have the potential to enhance biomarker detection by assisting pathologists in speed, accuracy and improving workflow efficiencies.
"Biomarkers such ER, PR, HER2, and Ki-67 are not like other immunostains; a binary interpretation of positive or negative is not enough. These biomarkers have prognostic significance and drive the clinical decision on which patient can benefit from targeted therapy. Accurate and reproducible biomarker quantification can be powered by AI to improve the quality and efficiency of pathology and ultimately optimize patient care," explains Dr. Marilyn Bui, Professor of Pathology and Scientific Director of Analytic Microscopy Core at the Moffitt Cancer Center.
Intended for use in digitized breast cancer samples stained with Ki67/MIB antibody, the Aiforia AI Model provides a wide range of applicabilities and benefits including:
Creates a heatmap assisting the pathologist in automatically finding the critical areas of the sample
Rapidly distinguishes between normal and cancerous tissue supporting the pathologist in the quick detection of tumor epithelium
Automatically scores the

Ki67 positive and negative cells of epithelial origin from either (WSI) whole slide images or selected image areas, saving the pathologist time

Provides intelligent viewing as the The Aiforia Clinical AI Model for Breast Cancer: Ki67 enables viewing and selection of areas with high density of Ki67-positive cells, or hotspots, displaying the results of image analysis
The future of AI-assisted cancer diagnostics
Pathologists deserve the best assistance possible to harness the full power of their own expertise. Afterall, effective treatment begins with a precise diagnosis. AI-assisted image analysis expands the possibilities of cancer therapeutics, bringing about more effective treatment and personalized therapies; of course resulting in cost savings to healthcare systems globally. Aiforia's mission is to democratize patient care and to fulfill the ability to provide more precision medicine to improve patient outcomes.