Attend our seminar on 13th of March at 12pm at the Exhibitor Seminar Room 5!
"The Next Frontier: Embrace the Digital Path"
Please join us to hear two eminent pathologists from the Mayo Clinic discuss their experiences at the frontier of digital pathology. Each has embraced the digital path in different ways. Dr. Thomas Flotte leads more than eighty pathologists and trainees as they engage in algorithm development, some for the first time. He will provide an overview of the framework as the trainees learn the power of digital pathology. Dr. Rish Pai will discuss QuantCRC, an artificial intelligence model that can analyze H&E sections and has prognostic capacity for colorectal cancer. He will describe how the model was developed using the Aiforia platform and how it can improve decision making.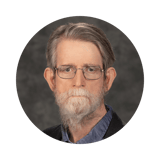 Dr. Flotte is a dermatopathologist trained at NYU and Massachusetts General Hospital. He was on the staff of MGH for twenty-five years and has been on the staff of the Mayo Clinic for fifteen years. He has been involved in the development of whole slide scanning technology and artificial intelligence for many years. He chairs the Digital Pathology Research and the Digital Pathology Technology Committees at Mayo and is the Program Director for the Clinical Informatics Fellowship at Mayo.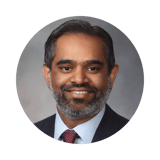 Dr. Rish Pai received his BA from Pomona College in Claremont, CA and earned his MD, PhD from Case Western University School of Medicine in Cleveland, OH. He completed his anatomic pathology residency at the University of Chicago Medical Center, followed by a gastrointestinal and hepatic pathology fellowship at the same institution. Dr. Pai is currently Professor of Laboratory Medicine & Pathology and serves as a Consultant Pathologist at the Mayo Clinic in Phoenix, Arizona and Associate Chair of Research for the department. Dr. Pai has lectured nationally and internationally on many aspects of gastrointestinal and hepatic pathology and has directed multiple GI and Liver CME courses. He has an active research interest in the histopathology of inflammatory and neoplastic diseases of the gastrointestinal tract and liver. Dr. Pai is particularly interested in prognostic biomarkers in gastrointestinal tumors. Dr. Pai is also Past-President of the Rodger C. Haggitt Gastrointestinal Pathology Society and part recipient of the Jack Yardley Investigator Award. He is a regular reviewer for numerous pathology and gastroenterology journals and serves on the Editorial Board of the American Journal of Surgical Pathology and Modern Pathology. Dr. Pai has published over 170 articles and written multiple book chapters in the fields of gastrointestinal and hepatic pathology.
Visit our booth #635 !
Want to see a personalized demo while at the conference to see our AI for image analysis software in action? Get in touch with Aiforia's Ryan Powers to secure a spot!